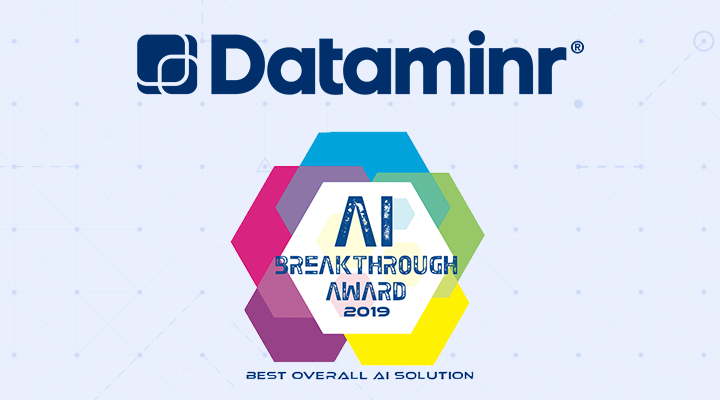 Dataminr Wins 2019 AI Breakthrough Award for Best Overall AI Solution
NEW YORK -- 26 June 2019: Dataminr, one of the world's leading AI businesses, has been named winner of a 2019 AI Breakthrough Award. Dataminr's award is in the leadership category for Best Overall AI Solution.
Now in its second year, the AI Breakthrough Awards program annually recognizes the top companies, technologies, products, and services in the artificial intelligence industry today. Winners of 2018 awards included Google, Qualcomm and Verint. This year, Dataminr was selected from more than 1,500 nominees.
Ted Bailey, founder and CEO of Dataminr, said, "We are thrilled to be recognized with the 2019 AI Breakthrough Award for Best Overall AI Solution. At Dataminr, we believe that AI and real-time data can address critical business needs, while also serving a greater, public good."
Dataminr's advanced AI platform detects the earliest signals on real-time risks from within the increasingly diverse and complex landscape of publicly available information. This early detection capability enables more effective risk mitigation strategies, faster response, and better crisis management for organizations across the globe.
With Dataminr's scalable, real-time AI platform, clients bolster their abilities to manage risks across their organizations. The company's enterprise clients span multiple industries, including financial services, technology, retail, consumer products, transportation, insurance, healthcare, energy, and media. Dataminr's public sector clients include first responders, global NGOs such as the United Nations, universities, and hospitals.
James Johnson, managing director of the AI Breakthrough Awards program, said, "Dataminr's AI solution continues to demonstrate unique value across public sector organizations and commercial enterprises. We extend our congratulations to the Dataminr team and look forward to the company's continued growth and impact."
About Dataminr
Dataminr is recognized as one of the world's leading AI businesses. The company's clients are the first to know about high-impact events and emerging risks so they can mitigate and manage crises more effectively. Dataminr solutions are relied on 24/7 by hundreds of clients in over 70 countries to help them solve real-world problems. Dataminr was recently valued at $1.6 billion and is one of New York's top private technology companies, with nearly 650 employees across seven global offices.

###